News Archive
VIT Environmental Department at Xylem Watermark Event
5 Aug 2019
by Uwe Scherner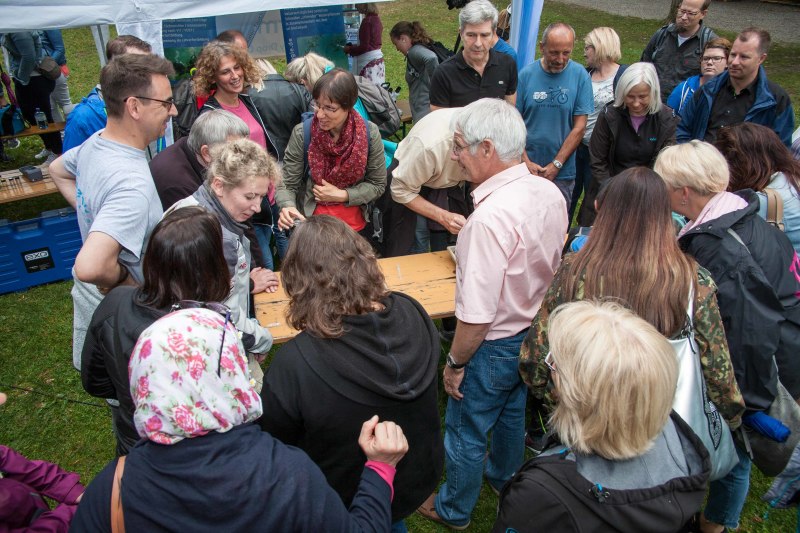 With 14,000 employees worldwide and 350 in Weilheim, the company Xylem is one of the big players in the field of water analysis. Among other things, the Xylem Watermark Foundation supports projects to provide people in crisis areas with clean water. On July 31, 2019, a Xylem Watermark Event was held at the Staffelsee to bring water analysis products to the public and employees. As an employee of the expert institute bioConsult, I was invited by Xylem to present the biological examination methods as a supplement to the analysis. The VIT was of course on board.
Visitors had the opportunity to catch small animals from brook samples (macrozoobenthos) and to observe them under the binoculars. In doing so, I explained to you the Saprobia Index for the determination of the quality of the water with the help of these tiny animals.
At the neighboring table one could inform oneself about physical measuring methods for the determination of temperature, pH-value and conductivity.
A passenger ship was rented and equipped as a research vessel. Different probes were launched during a lake cruise and the participants were able to follow the readings via monitors. In the foreground you can see a remote-controlled vehicle for water analysis.
Peter Niesslbeck (svi bioConsult and VBIO) took a planktonpobe on the ship and prepared it so that the participants can see it on the monitor.
The numerous visitors had a nice and instructive day and I was very pleased that I was allowed to contribute the biological part and point out the environmental work of the VIT.
Your environmental officer
Dipl.-Biol. Uwe Scherner
Divecenters
Sponsors
Events