News Archive
Finally Pressure on my Head again
9 Jul 2021
by Renate Hirse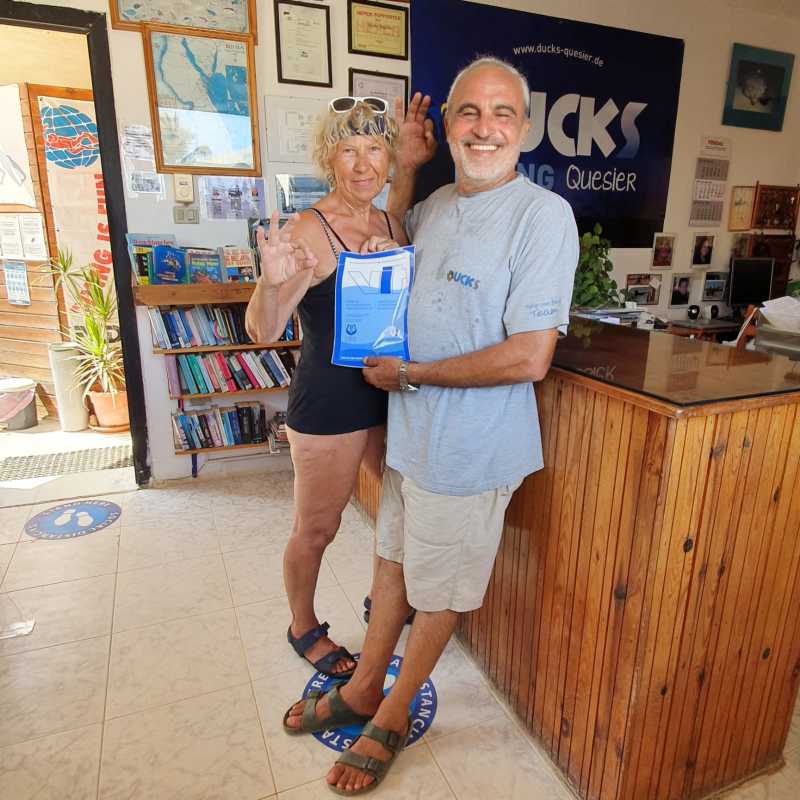 It was a hard time, reports Essam Hassan, VIT TL ** and head of the DucksDivers dive center, Mangrove Bay in El Qusier, to Renate Hirse, former VIT president.
After a long dive break and the longed-for double vaccination, she finally wanted to go underground again and also know how the VIT divecenters are doing after the long corona break on site. Here at Essam, the joy is great that after months of waiting, the diving guests are finally starting up again. Despite the temporary standstill, Essam has managed to secure its proven crew with their reliability, dedicated service and the preservation of the environmentally friendly bottle transport. This is also one of the reasons why many regular guests have come back, brought new divers with them and have already booked again for autumn. As always, it is as beautiful as ever under water. Whether individual house reef diving, taking the zodiac to the north or south corner to do a comfortable one-way dive back or to be picked up later, I have not seen a diver who did not come back to the jetty brightly. And that certainly had more to do with the fact that eagle rays could be observed on the house reef every day, apparently to mate. If that is not enough for you, you can also take the big boat to more distant destinations and dreamy ergs if there are enough interested parties.
What is new, however, is that Essam has strengthened its team with his son Karim and his wife Marianne, who are both fully involved both above and below the water and are an asset to the base and all guests.
Thanks to everyone, the base, the crew and especially the Essams family. I wish everyone all the best and good luck so that regular guests and "newcomers" can continue to experience a wonderful diving holiday.
Renate Hirse
Former President of VIT
Divecenters
Sponsors
Events